Foundation Piecing
---
Foundation Piecing - Muslin foundation
- Crazy Quilt and String Pieced Blocks on a muslin foundation are demonstrated.
English Paper Piecing Tutorial Video
- This video teaches you how to sew English paper pieced motifs for quilts and other projects. For this method, you will need EPP paper templates, sewing shears, an iron, and both contrasting and coordinating thread.
Freezer Paper Piecing - overview
Foundation Piecing - overview
Learn how to Paper Piece
Paper Piecing Inspiration
Paper Piecing - Foundation Options Video
- Four common foundation paper options for paper piecing are demonstrated: Carol Doak Foundation Paper, Simple Foundations Translucent Vellum Paper, common copy machine printer paper, and Stitch 'n Wash Dissolving Foundation Paper.
Foundation Paper Piecing - how to video
- Learn the most common version of Foundation Piecing - usually known as Paper Piecing. Achieve perfect points on tiny blocks with just a few easy tips.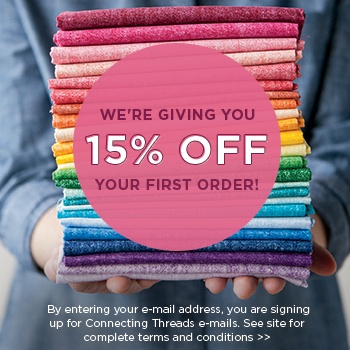 Simply sign up to receive our emails and we'll send you a code for free shipping!

Your email has been added to our list! Please check your inbox for a welcome message and your code for free shipping!