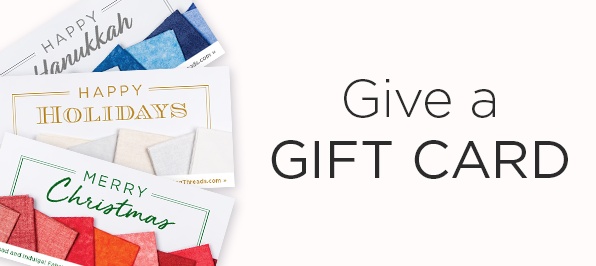 Please review your gift card order carefully!
---
Gift Cards will be sent to the Recipient's Email. Please verify that the email address is entered correctly.
To print out a paper gift card, use your email address for Recipient Email and print from your mail browser.
Most cards will be emailed same day, but please allow up to 2 business days to receive your Gift Card email.
Gift Cards are tax-free and require no shipping fees. Gift Cards do NOT qualify for Free Shipping.
Gift Card purchase amounts are reflected in US Dollars only.
Gift Cards may be used online or by phone or mail. Gift Cards have no expiration date.
To order multiple Gift Cards with identical amounts, you may change the QTY in your shopping cart.
If Gift Card is not received, have your order number ready and contact Customer Service:
By phone:
United States and Canada: 800-574-6454
Australia: 1-800-106750
United Kingdom: 08-0823346084
By email:
United States and Canada:
customerservice@connectingthreads.com
Australia:
au@connectingthreads.com
United Kingdom:
uk@connectingthreads.com
Card purchaser is responsible for content and accuracy of gift card information.