Foundation Piecing - overview
by Karen Johnson
When it comes to Foundation Piecing, you've probably heard many terms that all sound very similar. I'm asked on a regular basis "Is Paper Piecing the same as Foundation Piecing?", or "how is English Paper Piecing different from Paper Piecing?". It IS very confusing, even if you're experienced.
Paper Piecing aka Foundation Paper Piecing - These are both the same thing, but one is less of a mouthful to say! The paper is the "foundation" of your block and you sew fabric directly onto the paper. After the block is completed, you rip the paper off of the back. The paper can be copy machine paper, vellum, newspaper print, tracing paper, wash away paper, or freezer paper. Pretty much any paper can work, however those that can be run through a copy machine are best. Some perform better than others. My favorites are Carol Doak's Foundation Paper, and Simple Foundations Vellum.
Pros
You can easily achieve perfect sharp points using paper that can otherwise be very challenging with traditional piecing.
Once you get the hang of it, you can sew blocks very quickly, using a simple numbering series to know where your next fabric goes.
EQ6 and EQ7 software can convert most any block into a Paper Pieced block, complete with numbers.
Cons
You have to rip paper off the back of your block. This is an extra step that some people find tedious.
You need access to a copy machine to photo copy your paper templates.
Back of a paper piecing project in progress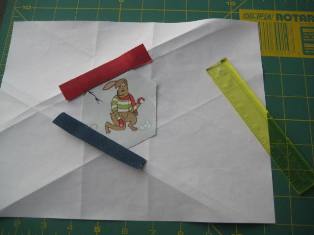 Close up of front of a paper piecing project in progress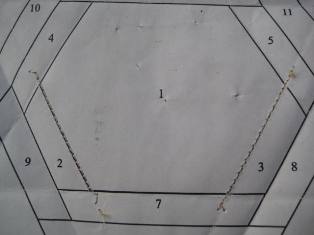 Front of a paper piecing project in progress.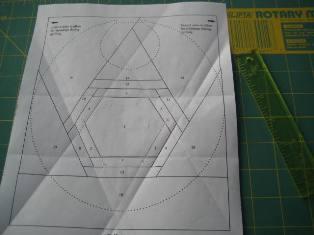 English Paper Piecing - This is a very old, traditional method that is entirely hand stitched.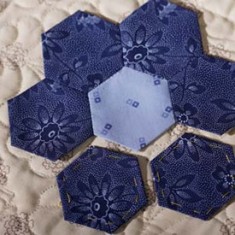 In this hexagon block (shown above), a hexagon shaped template is inside of the fabric, with the seam allowance turned under. The fabric is hand basted to the paper, catching the seam allowance, so all of the edges appear finished. Each hexagon is then hand stitched to other hexagons to form a block. Once all edges are stitched, the basting is ripped out and the paper is removed.
Grandmother's Flower Garden using hexagons are the most common layout, but diamonds, squares, triangles and octagons are also quite prevalent. Many of us here at Connecting Threads have become addicted to this fun technique and we like to call it EPP for short. Our great grandmothers might have hand cut their templates from old newspapers or other scraps of paper. These days, we love the shortcut of using pre-cut paper templates that are strong enough to use over and over.
I won't be covering EPP here, because we have a wonderful tutorial already on hand, by our friend Vicki Bellino. Here is a printed version and here is a video version (below). We also have a free EPP Quilt Along on the topic.
Pros
If you like handwork, this is a fun, very portable technique that is very easy to learn. Minimal tools are used, and the stitching is a simple whip stitch.
Cons
If you're not fond of hand stitching, this is not for you.


This video teaches you how to make English paper pieced motifs for quilts and other projects.

Freezer Paper Foundation Piecing - This technique uses the same numbered pattern that you might use in Paper piecing, but you don't stitch through the paper. Instead, you pre-cut the freezer paper templates, press them onto the fabric, cut the shape out, adding extra for seam allowance (see photo below). Then you use the freezer paper as a stitching guide to create those sharp points. When the block is done, the freezer paper pulls off easily because it has not been stitched through.
Pros
No ripping out paper from the back of your block.
Cons
This method takes much more prep time because of all the pre-cutting of the freezer paper.
Because you're not stitching directly on a line, you won't have quite the same level of sharp accuracy as in regular paper piecing.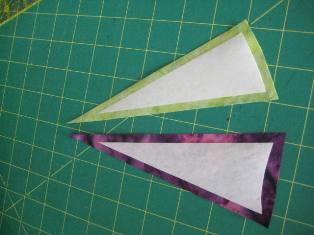 Foundation Piecing - and the Crazy Quilt block. The term Foundation Piecing is the most confusing because it is used for all of these techniques. But it is a more general term that just means you are using some sort of a foundation to create your block, in addition to the fabrics that form the block.
The most common use for Foundation Piecing without paper would be muslin. My favorite use of muslin in a foundation block is when I make Crazy Quilt blocks. No base pattern is required. Instead you begin with a 5 sided irregularly shaped piece of fabric. Lay it on the muslin piece. Layers of fabric are then sewn onto each of the 5 sides, machine stitching through all the layers, including the muslin, creating a crazy quilt style block which can then be embellished.
Photos: Front and back of a partially embellished crazy quilt block (from my own UFO pile). Note the 5 sides butterfly piece in the very center that began the block. On the back, notice there are no markings.