Kaleidoscope - 8 Wedge Template Block
by Karen Johnson
Eye of the Storm Kaleidoscope block.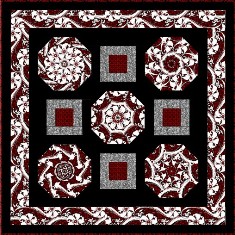 This week Karen will teach you how to make the 8 wedge Kaleidoscope block featured in our Free Pattern. This was designed by Kristin Gassaway and Mari Martin, exclusively for Connecting Threads. Find your own fabulous focal fabric to make this beautiful wall hanging your own!
Download the Free pattern by clicking here
.
This block is template based, and we've provided the template in the pattern. We recommend tracing the template onto a sturdy, clear template plastic. Template plastic will hold up well with repeated cutting and you can see through it if you wish to fussy cut your wedges.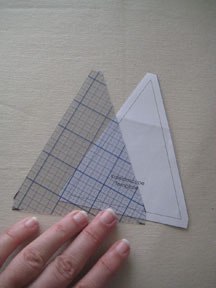 Identify the repeat in your fabric. Refer to the Lesson 1 video for a refresher on how to identify a repeat and cut your layers. You'll need 8 layers of fabric for this project.
Note: our fabric had an unusually small repeat of only 4 1/4". To allow space for our templates, we doubled that so we'd have more fussy cut options to work with. So we cut our layers 8 1/2" wide and incorporated 2 full repeats. You can see our repeat in the photo below, between the seam rippers.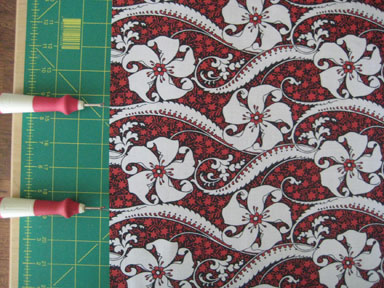 Here are our 8 layers.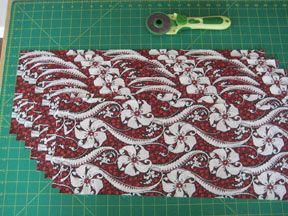 Pin all 8 layers together, again referring to the Lesson 1 video as a refresher.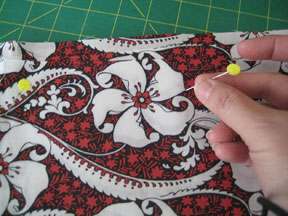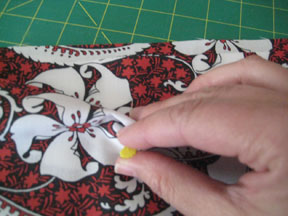 Lay your clear template anywhere on the fabric you like. You can fussy cut, or you can be random in your placement. If you have a 60mm rotary cutter, that's ideal for cutting through all of these layers, but if you don't, just be sure your 45mm has a fresh blade.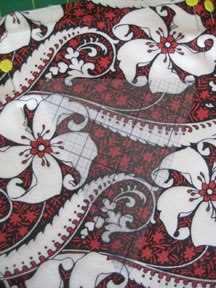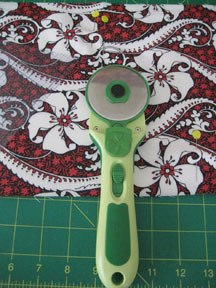 Watching carefully for pins, cut the first wedge. Tip: to protect your fingers/and or your template from accidentally being cut, and to provide a firm cutting edge, we like to lay our ruler directly over the plastic template, align the edges of the ruler and the template. Reposition the ruler to each side of the template to cut the entire wedge.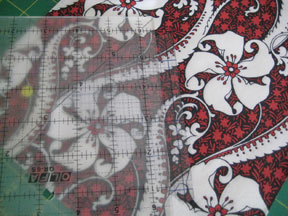 Repeat this process until you have 5 stacks of wedges. Because our design repeat was small, we moved the template around to ensure each wedge looked completely different. The larger the repeat, the less you have to fussy cut. Pin each stack together to prevent them from getting mixed up (helpful pets can really mess up your stacks if you turn your back for a moment!)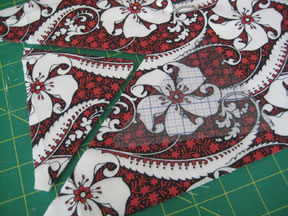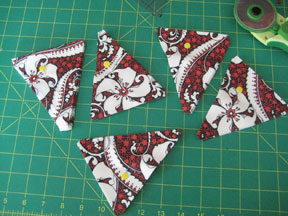 Just because we're too curious, we laid one block out before stitching to see how it will look - pretty!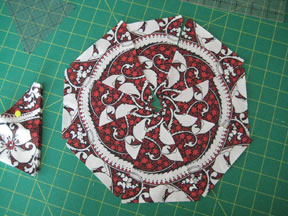 Begin stitching the wedges together in pairs. Work with one stack at a time to prevent getting confused. RST (right sides together), stitch 1/4" seams. Sew 4 pairs from one stack.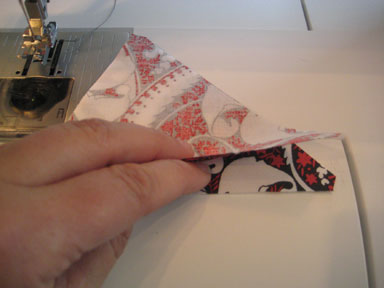 Tip: a great time saver is to chain piece your pairs. This means you don't cut the thread when you finish with one pair, just nudge the next pair right up to the ending of the previous pair and continue sewing. When you've sewn all 4 sets together, clip the tiny thread that's holding the sets together.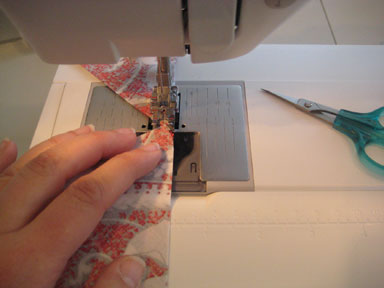 Press the seams open.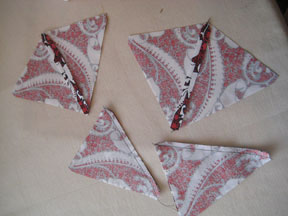 We chain pieced each stack, then pinned the stack together to keep them all straight.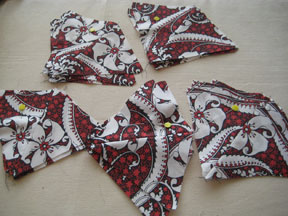 Now sew two pairs together, RST and press the seams open.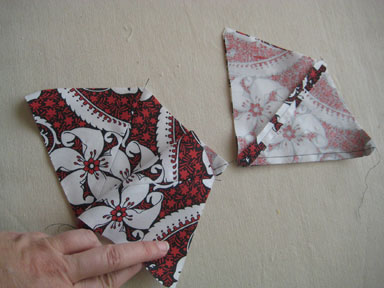 You'll end up with half kaleidoscopes.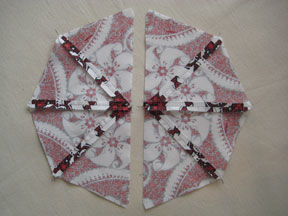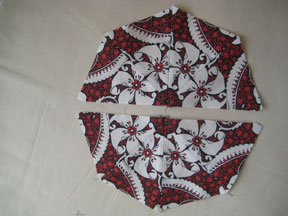 Put the two halves RST and pin together carefully at the center seam. Stitch the two halves together and press the seams open.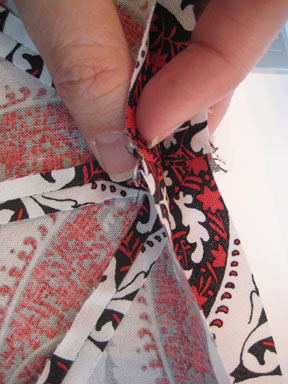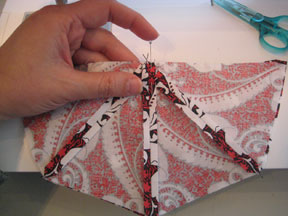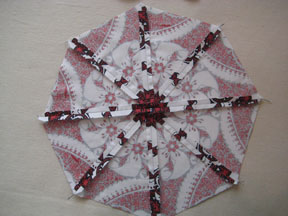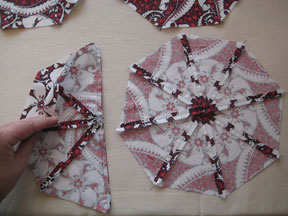 Repeat for all 5 blocks. It's so much fun to open these blocks and see the new design!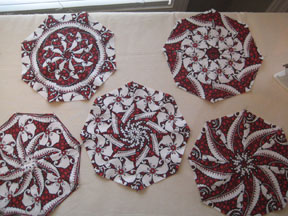 An octagon would be tricky to piece into a quilt, so our pattern adds corners to make it square. Using the second template in the pattern, sew a triangle on to every other corner.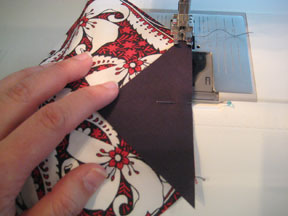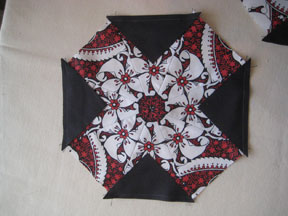 Press the seams away from the center. Trim the ears and square the block to 9 1/2".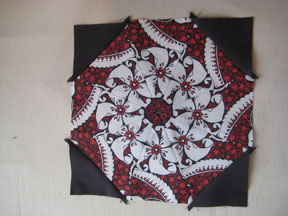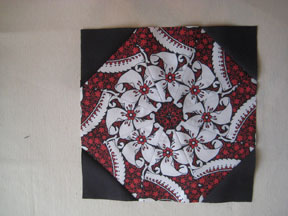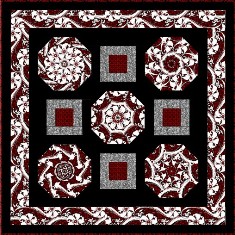 Follow the remaining steps of the pattern to finish your quilt top. Because this is a nice standard sized block, you can use this technique to make as many kaleidoscope blocks as you like, to incorporate into any style quilt layout!