Stars - Intro to the Star Block
by Karen Johnson
There are as many star blocks as there are quilters who love them! We break it down for you by the various techniques - regular piecing, template piecing, English paper piecing and foundation paper piecing.
Pieced Stars
First off, a note about block names. We began this tutorial by trying to track down all the different names of all the different star blocks. We gave up! There are so many names for any given block that we settled for just one name...whichever we thought was the most common. So please bear with us if you see a familiar block but the name isn't what you expected. After all, you can call it whatever you want when you piece it into your own quilt!
The Variable Star seems to be one of the most common and beloved 8 pointed star block. We like to think of it as variable because there are so many ways you can change it!
Here is a Variable Star that features Flying Geese. Notice the base block is a modified Nine Patch. Look for the nine different sections to understand the structure of this block. Here's the most basic version: You can move the colors around this simple block to change it any way you like
.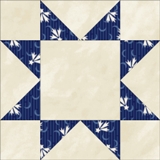 A four patch in the center and the four corners will create a chain effect when this is pieced into a quilt!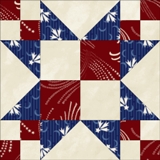 Add a Square in a Square Center for another look.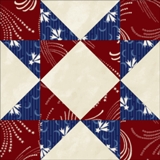 A pinwheel in the center gives a spiraling star effect.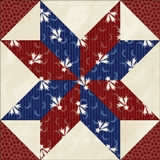 Another change in the center, a 16 Patch, gives a patchwork look.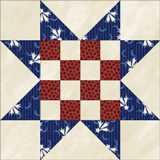 A Star in a Star!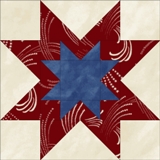 Now you can get creative with all the sections!
We added a Four Patch in the corners and a modified Nine Patch in the center.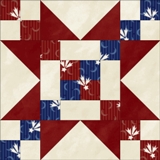 Signature or Autograph blocks. A Signature quilt is a lovely gift for anyone, especially when you want to involved nonquilters in a project - all they have to do is sign their name! Perfect for big anniversaries, retirement, baby quilts, and weddings. Here are just a couple of signature settings that could go into the center block of nearly any pieced star block. We added it to the Variable Star that uses Flying Geese, but again, you can add this simple pieced center to nearly any Variable Star block.
Simple and elegant.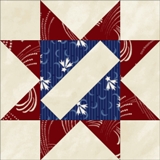 This center has 3 different reds for an interesting variation.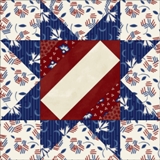 We'll teach you to make the Flying Geese Variable Star block in week three of this series. These Flying Geese Variable Stars blocks are featured in our Firecracker, our patriotic collection.
Now for the beloved Friendship Star block! What friendship quilt is complete without this block? Excellent for round robins, row robins, swaps - anything that represents friendship! It is comprised of simple Half Square Triangles (HSTs), arranged to form a four pointed star. Here's the basic Friendship Star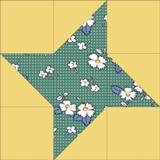 Here we simply added a third color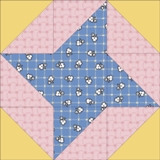 This version is back to two color, but with an added interest of corner HSTs and a Square in a Square center: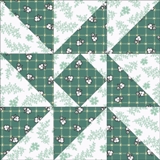 Here's another block that features Half Square Triangles - the Pinwheel Star. We used three colors to allow the pinwheel to whirl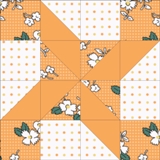 Need to learn how to make Half Square Triangles? Check out our tutorial here. The Friendship Stars and Pinwheel Star are featured in our Mama's Cotton II fabric collection.
Variable Stars with Quarter Square Triangles. Here's another favorite version of the Variable Star, this time featuring Quarter Square Triangles (QST). Notice this Variable Star is also a basic Nine Patch! See the Nine Patch grid?
This is the most basic QST Variable Star, featuring three colors: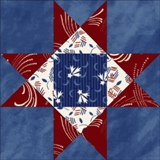 By switching to 2 colors, you have a more open look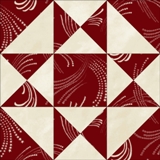 Another way to use 3 colors: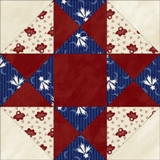 This looks like a swirling Friendship Star, but is made with QSTs for the star points and HSTs in the corners!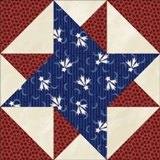 We'll teach you to make the Half Square Triangle Variable Star block in week two of this series. These HST Variable Stars blocks are featured in Firecracker, our patriotic collection.
Ah, the challenging Lone Star. This is not a block for beginners! Yes, there are books and patterns available with easier strip methods, but the bottom line is, this is an advanced project! Lots of diamonds, lots of bias and precise piecing is what makes this block a beautiful challenge. But oh, if you feel up to the challenge, you'll have an heirloom piece worthy of your heirs! The Star is formed from varying colored rows of pieced diamonds. Each inset is then finished with a setting block, generally pieces with Y seams. The Lone Star can also be English Paper Pieced. Read below for an explanation of EPP.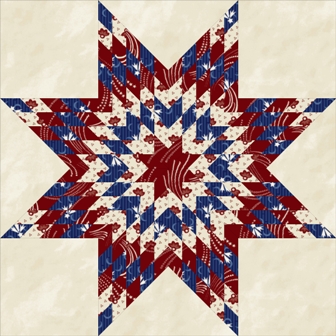 This Lone Star block is featured in Firecracker, our patriotic collection.
Template Stars
Template stars vary quite a lot and you'll most often find them in patterns or books, or with the purchase of specialty templates and rulers. They can begin with a Nine Patch configuration, or they can have more advanced Y seam piecing. Some of these can also be Foundation Paper Pieced for the sharpest of points. See below for an explanation of Foundation Paper Piecing. The variation here is all in the angle of the triangle blocks. Anything goes!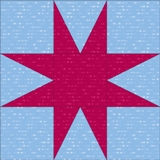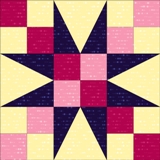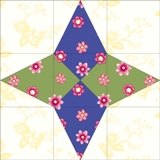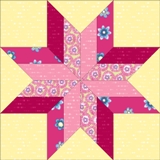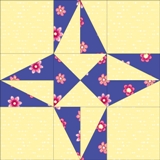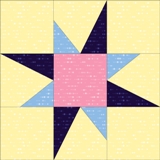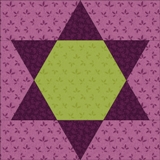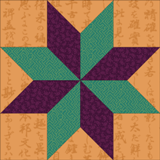 These template star blocks are featured in our Antoinette fabric collection and Sweet and Sour.
English Paper Pieced Stars
Quilters often ask the question - "what's the difference between English Paper Piecing (EPP) and Foundation Paper Piecing (FPP)?" EPP is always hand pieced, using a precut template in the shape of each section of your block. The most common form of EPP is hexagons found in Grandmothers Flower Garden. To EPP stars, you'll use a diamond shape. These shapes can vary in width to make 5 - 8 point stars. To join the stars to each other, you'll need some other EPP template shape, like a hexagon, a triangle or another diamond shape. Watch our free video demo of EPP!
Here is a six point diamond EPP'd using a tumbling blocks layout. We used EQ6 and provided the layout for you.
We colored in the stars and left tumbling blocks blank in between, so the stars stand out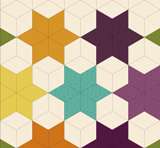 In this version we created an optical illusion. One set of stars are dark purple and light purple, another set of stars are yellow and dark purple!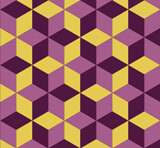 Foundation Paper Pieced Stars
Foundation Piecing simply means the fabric is sewn down directly to some type of foundation, fabric, water soluble paper, vellum or paper that is ripped off later. Crazy quilt blocks are often pieced onto muslin. The most common reference today is Foundation Paper Piecing (FPP), using some sort of lightweight paper, and after the block or quilt is complete, ripping off the paper from the back. Many of the Template Stars we showed you earlier can also be FPP'd, but here are a couple of Feathered Star blocks that could be machine or FPP'd. We'll include FPP in our Techniques 2010 series in August.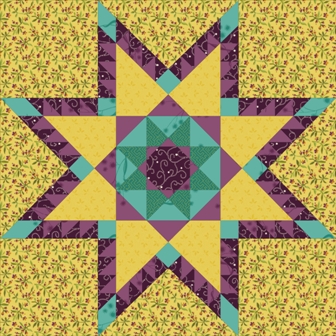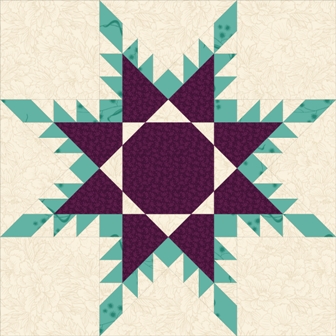 Now you have an overview of Stars. If you'd like even MORE inspiration, take a look in our Quilt With Us photo section. Our members have shared their projects and these are just a few that feature Stars.